HEPATITIS SCREENING & VACCINATION
Pakistan has the world's second highest rate of individuals afflicted with Hepatitis C, with 5% of the population infected. That's over 8 million Pakistani people living with Hepatitis C. There is also a severe Hepatitis B epidemic, with more than 7 million people in Pakistan carrying the disease.
The Sarwar Foundation is taking a stand against Hepatitis, by providing free Hepatitis screenings to hundreds of susceptible people in Punjab. Patients who test positive for Hepatitis are treated with medication and cared for until a full recovery is made.
EYE CAMPS
67% of Pakistan's population currently live in rural areas, and as a result many people face injury, illness and dangerous diseases without medical help. In order to provide a wider range of medical service to vulnerable Pakistani people, the Sarwar Foundation runs weekly medical camps in hard to reach rural areas.
With the help of leading Pakistani doctors, we are able to treat around 700 impoverished people each week, at absolutely no cost to the patients. Along with standard treatments, the doctors at our medical camp take special care with mothers, expecting mothers and children. We provide essential vaccinations for children and mothers, administer in-depth health screenings during pregnancy and supply patients with family planning and educational programs.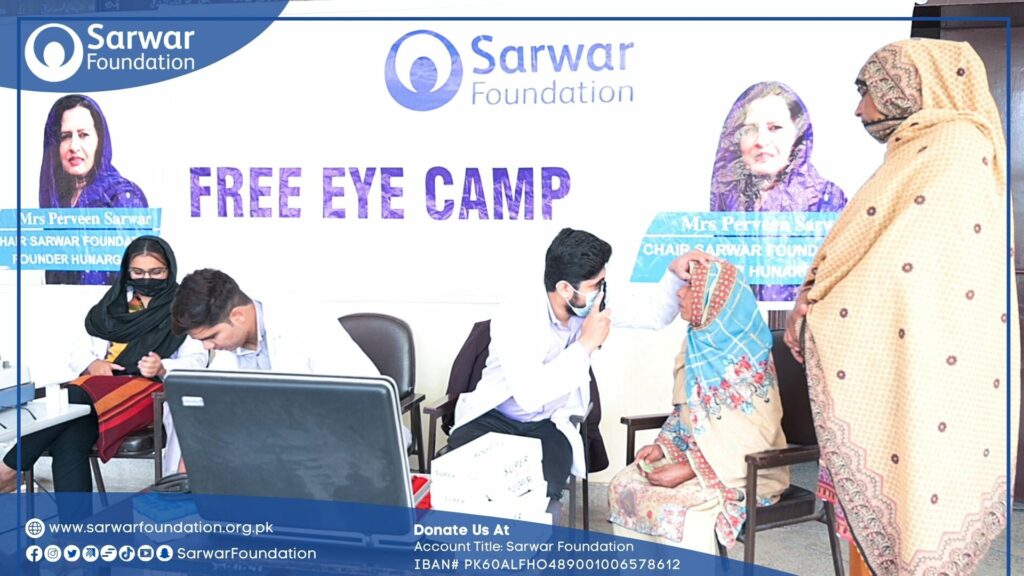 In Pakistan, there are approximately 4 million blind people, and 1.5 million in the Punjab region alone. Without proper treatment and preventative measures, that figure will reach three million by the year 2020.
The Sarwar Foundation is taking action against sight loss by running weekly eye health camps with the help of respected local ophthalmologists, to check the quality of sight and overall optical health of Pakistan's most disadvantaged.
Our eye camps provide eye examinations, prescribe and distribute glasses, detect and treat a multitude of eye conditions and preform eye surgeries, all free of cost.